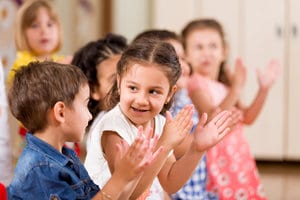 Many parents struggle with feelings of guilt related to being unable to care for their child literally 24/7. But we're here to tell you, don't sweat it! Daycare is good for your child, and you're making the right call. Here are 3 benefits of daycare for infants and toddlers.
Kids who are put in daycare are more likely to graduate college!
Most people don't give daycare enough credit when it comes to the educational benefits. Your child can learn skills and competencies in daycare while having fun with their peers, and it pays off in the long run. The Abecedarian Project began in 1972 in North Carolina and followed participants from birth to adulthood. The study found that individuals who had received high quality daycare in their childhood were 4 times more likely to earn a college degree. Those children were also more likely to maintain consistent employment. This is the first benefit of early education programs like daycare for infants and toddlers.
Daycare prepares children for kindergarten.
Children who attend daycare are familiar with a regular schedule and group activities. This allows them to adapt more easily to the kindergarten format. But the preparation goes deeper than just adjusting to a schedule. A study conducted in 2016 discovered that children who attended formal childcare programs had stronger reading and math skills compared to their peers who had experienced home-based care programs.
Daycare strengthens your child's immune system.
Daycares have a reputation for being the perfect spot to catch a bug. While that may be true, in the long run it's actually a good thing! Exposure to the daycare environment makes kids less likely to get respiratory and ear infections once they enter elementary school.
The next time you start to second guess yourself as you're dropping your child off for daycare, remember that daycare is the perfect place for your child to be. You go mom & dad!