Every February 14th in the United States is Valentine's day. People exchange flowers, cards, chocolate, jewelry, and other miscellaneous Valentine's Day related tokens. Children across the country smile at the sight of chocolate and other assorted candy, but at Rayito de Sol we recommend chocolate with a side of crafts! Valentine's day is the perfect opportunity to engage in some creativity for the young ones in your life.
Valentines day crafting allows you to create some special memories while sharing in the joy of the season of love. This Valentine's Day season, try out these STEAM (science, technology, engineering, art, and math) related crafts. You can have fun while you instill core competencies in your child. Most of these crafts are ideal for children ages 3-5, but we encourage you to exercise your creativity and adjust as needed. There are no rules when it comes to crafting!
Cards are a Valentine's day staple. But where do you put all those cards? Inside a giant heart pocket of course! These pockets can function like a Valentine's day mailbox, and are a fun craft to do with your little one to enhance their creativity and dexterity.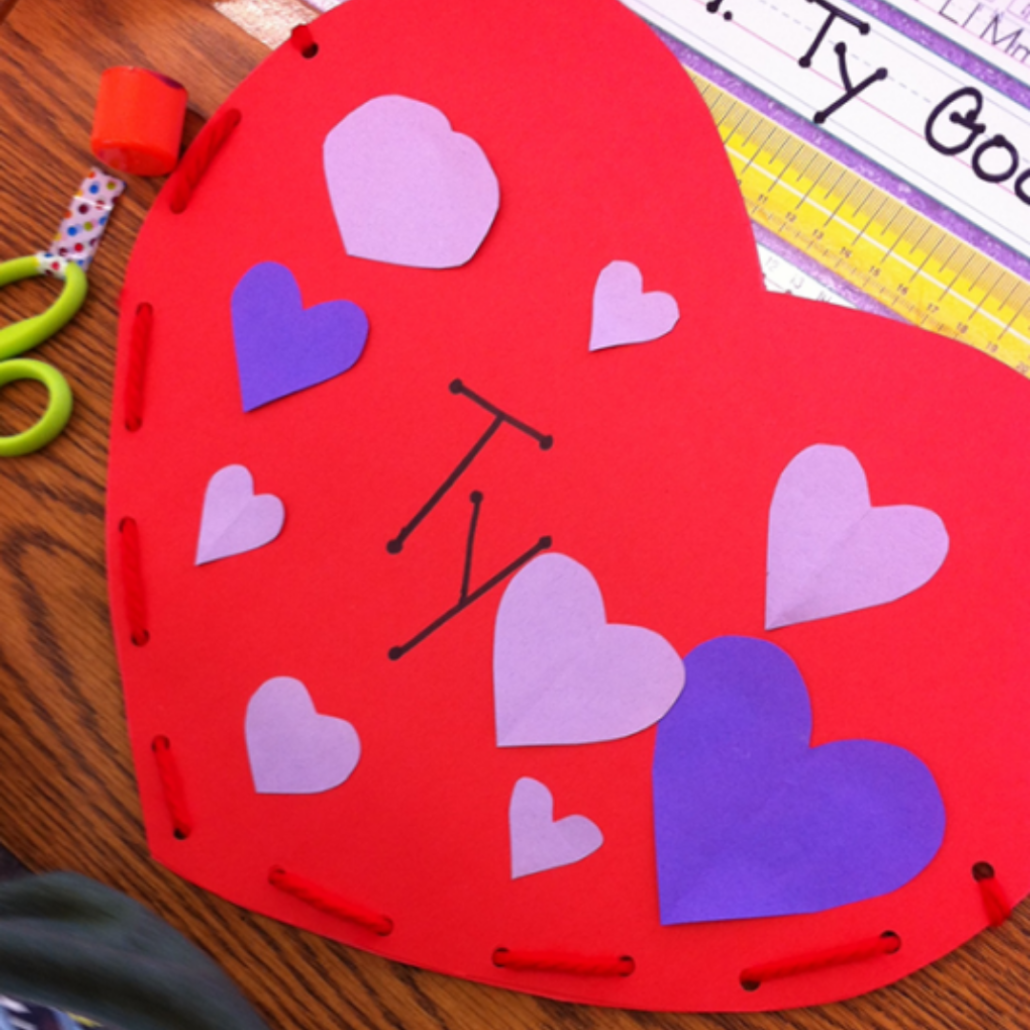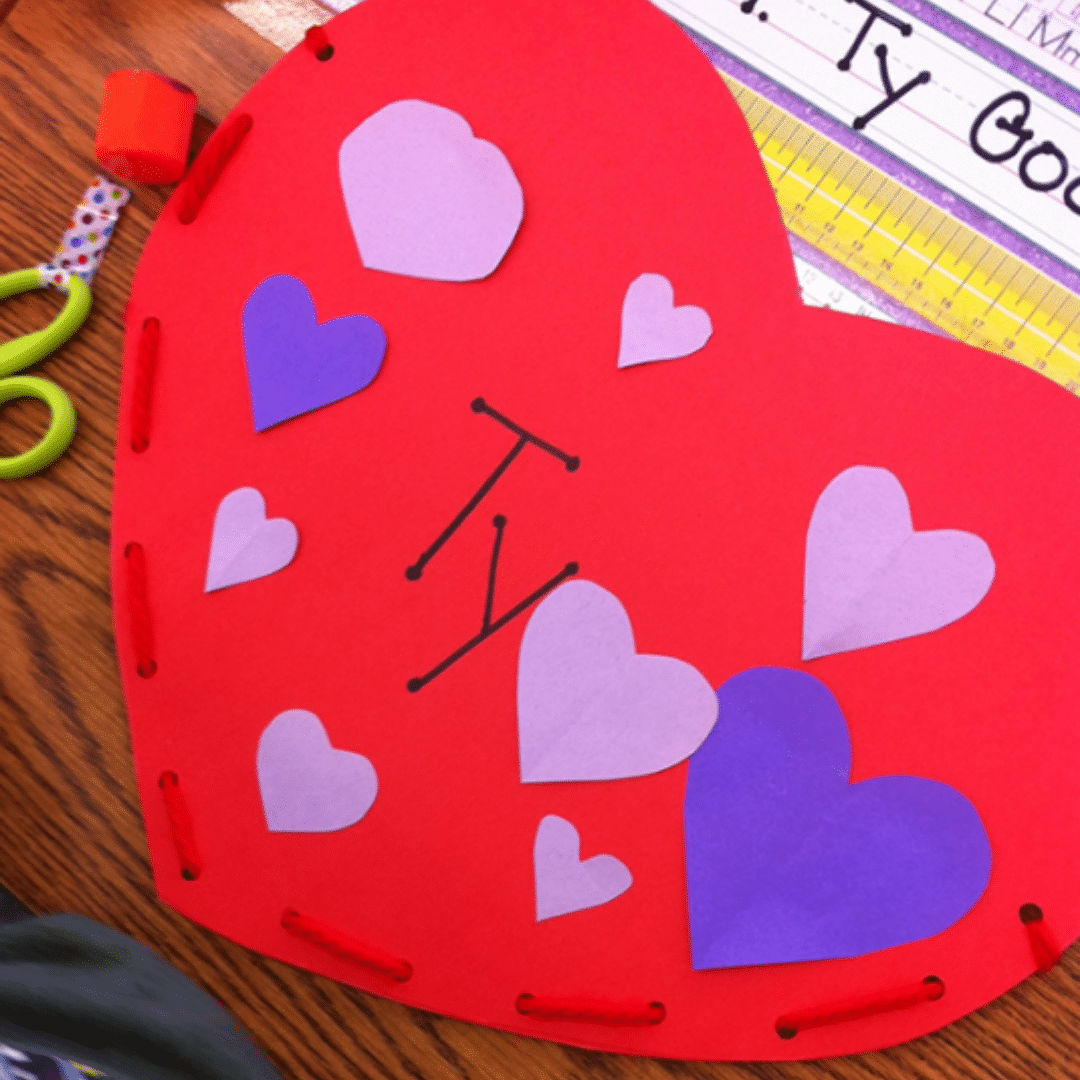 You will learn about:
Design
Shapes
Spelling names and words
Patterning
Fine motor practice
You will need:
Red tagboard
Red yarn
Construction paper in multiple colors
Holepuncher
Scissors
Pencil
Markers
Glue
Directions:
Using the pencil, trace a heart on the red tag board. Then cut out the heart using your scissors. Repeat this step once, so you have two equally sized red hearts.
Line up the hearts so that they are back to back. Using your holepuncher, punch holes around the bottom half of both of the hearts. Once you reach halfway up the heart on either side, move on to the next step.
Take your yarn, and weave in and out of the holes of both of the hearts. Depending on your child's age, you may have to help them with this step. Tie the ends to secure the yarn and the hearts together.
Next is the best part: decorating! This is where your child's creativity can really shine. Have fun with cutting the construction paper into different shapes, and glue them on the hearts. Use your markers to draw fun designs or label the heart with a name. If you want to get extra fancy, you can incorporate glitter or other fun elements. But we opted for the markers and the construction paper as the clean up for glitter is more intensive.
You're done crafting your heart pocket! Now, fill up the heart with cards and candy!
Who doesn't love marshmallows? Marshmallow toothpick structures are an easy and low cost craft which teaches your child about building through the use of marshmallows! This cool STEAM craft encourages problem solving and is appropriate for all ages.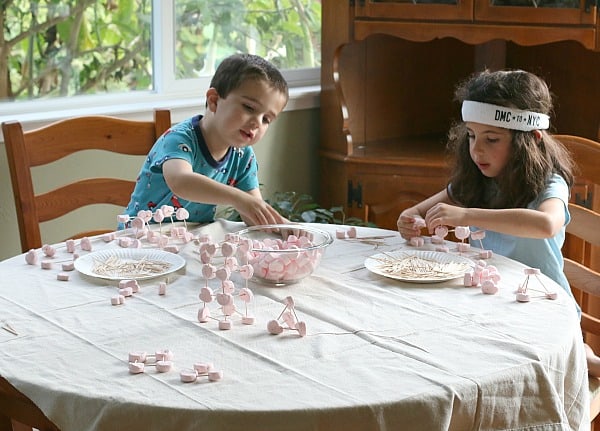 You will learn about:
Design
Shapes
Geometry
Fine motor practice
You will need:
Heart marshmallows
Toothpicks
Directions:
This craft doesn't have any structured steps, because it's just about allowing your child to get creative and give their building skills a try. So the first and only step is put marshmallows in one bowl, toothpicks on a plate, and get started!

Smaller ages might have a harder time building vertical structures. If that is the case, try building flat structures first, and then stacking them. For the ambitious among us, this is a great opportunity to teach your child about geometry. If nothing else, it's a great review of shapes and fine motor skills.
This craft combines literacy, math, and fine motor skills to create beautiful festive beaded bracelets! If your child isn't of reading age, that's totally fine! They can still focus on counting and design.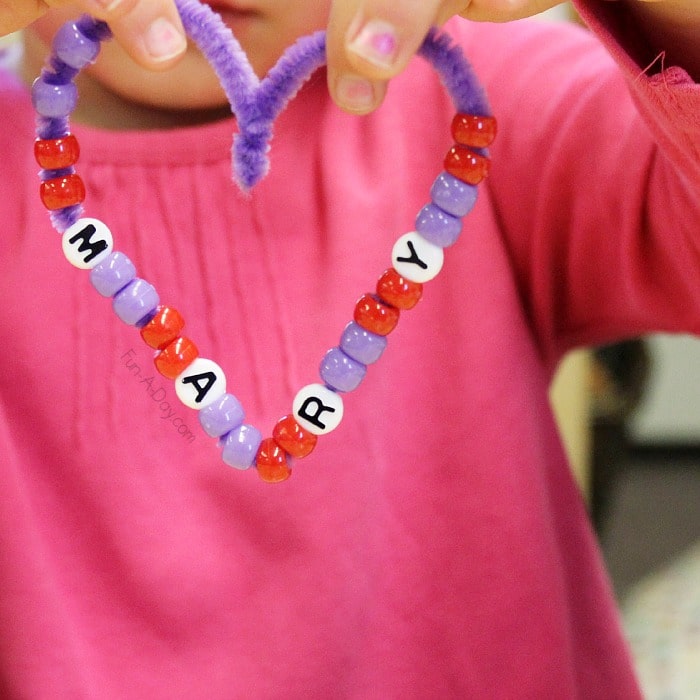 You will learn about:
Counting
Letter identification
Spelling names and words
Patterning
Fine motor practice
You will need:
Pipe cleaners
Alphabet beads
Pony beads
Directions:
First, decide if you're going to do beaded hearts or a beaded bracelet. Either way you choose will be fun!
Next, using a combination of the pony beads and the alphabet beads, lay out the bead design. This is the planning stage to ensure words are spelled correctly and there are enough beads to make the design that you want.
Finally, string the beads onto the pipe cleaners! Wear, display, and enjoy!
Combining motor science with chemistry, these fizzy hearts are sure to spark some scientific curiosity in your young one. This activity is appropriate for all ages and involves common household items.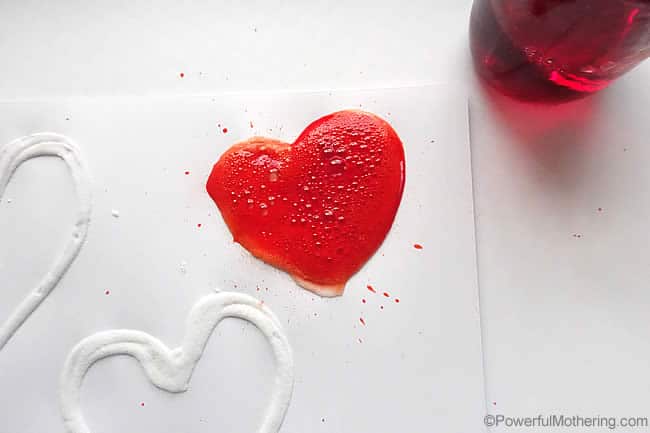 You will learn about:
Science
Fine motor practice
You will need: 
Paper
Activity tray
White school glue
Baking soda
Vinegar
Red food coloring
Glass jar
Directions
Lay down a piece of paper onto your activity tray and use glue to draw the outline of hearts on the paper. Sprinkle the outlines generously with baking soda.
Put vinegar in a glass jar, and color it using the red food coloring. This isn't an exact science, just make sure the vinegar becomes a deep red.
Use your fine motor droppers to suck up vinegar. Add the red vinegar to the center of the hearts.
Watch the fizz and enjoy the fun!
Bubbles are fun for every age! This hands-on activity combines valentines day and bubbles with chemistry to engage your young ones in science.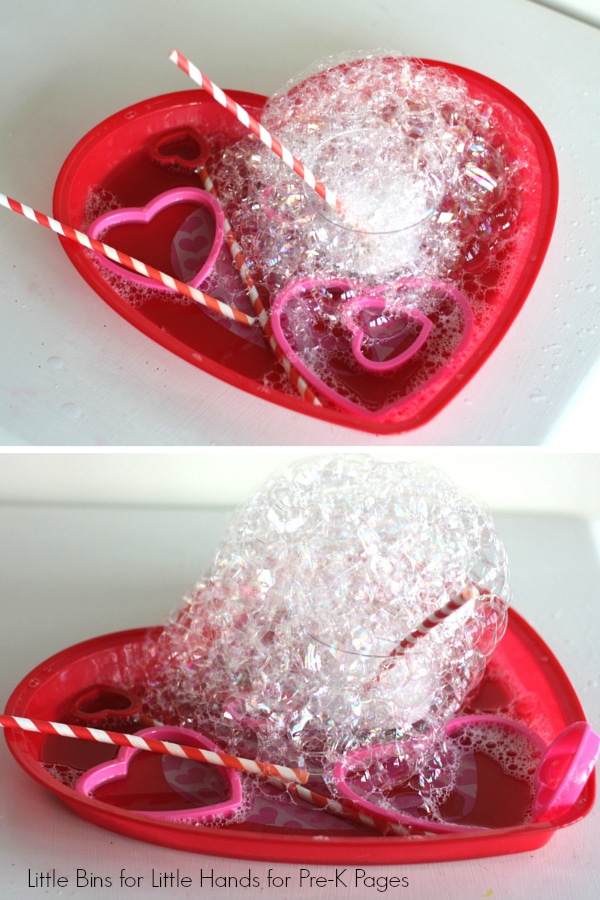 You will learn about:
Science
Math
Measuring
Fine motor practice
You will need: 
A tray (valentine's day themed preferable)
Straws
Cookie cutters (valentine's day themed preferable)
Water
Dawn dish soap
Light corn syrup
Measuring cups
Spoons
First, make the bubble solution. Feel free to use whatever amount of bubble solution is appropriate for your tray and child. Our recommended recipe is: 3 cups water, 1 cup dish soap, ½ cup light corn syrup. Stir gently so as to not create too many bubbles in the water.
Pour the bubble solution into the tray, and stir the solution gently once more. Your child can blow into the straw to start forming bubbles in the tray. This is a good opportunity to share some of the science behind bubbles. For example, you could share with them how the thin layer of soap forms a bubble and air is trapped inside the bubble.
Experiment with blowing bubbles. Try using the cookie cutters, and the straw. You could experiment with creating a bubble tower, or blowing bubbles inside of another bubble. There is no right or wrong here.
Puzzles are a great way to teach your child about spatial reasoning. This puzzle combines valentines day with numbers, and counting. You will have to do some simple solo set up for this activity, but after that your child will take the reins to form a lovely Valentine's day heart.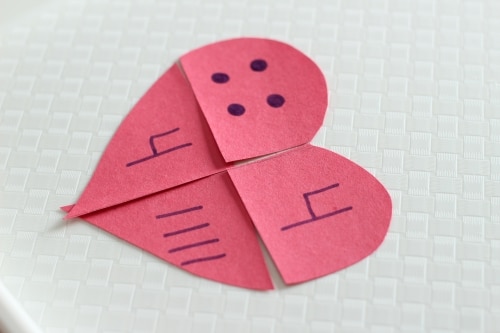 You will learn about:
Spatial reasoning
Numbers
Counting
Puzzles
You will need:
Construction paper
Scissors
Pencil
Marker
Directions:
On your own, use a pencil to draw two large hearts on two different sheets of construction paper.
Using scissors, cut out the hearts.
Separate the two hearts. Cut one heart in half, hotdog and hamburger style. You will end up with 4 pieces. Repeat this step with the other half. You will have 8 pieces in total.
Choose 2 numbers you want to focus on for this activity. The end result of this puzzle will be two hearts arranged with one number represented in different ways on each of the puzzle pieces. See pic above for clarification.
On two pieces of each heart, use a marker to write the number(s) you are using. Draw tallies on another heart piece to represent the numbers. On another piece, use dots to represent numbers.
This is the part of the craft where your child gets to do some problem solving. If they need help with understanding number representation, count the number of tallies and dots with them so they understand the meaning. Then, look for the pieces with the correct number on it. Fit the puzzle pieces together to make a heart.
Repeat the puzzle as many times as needed, and feel free to experiment with shapes and number representation.
Valentine's Day crafting can be fun and educational! Whatever craft you choose to do or not do, the important part of Valentine's Day is to appreciate the people who you love and love you, and that list is incomplete without the little ones in your life. Have fun, and craft away!