Winter can be hard for families with young children. What once was a "go play outside" is not so easy in a big city. You want your kids to have fun, but safety is a priority. Life in the city provides its own unique challenges for young families. So what do you do for fun when winter hits? Rayito de Sol is here to help with some suggestions for winter activities in Chicago for families with kids.
Feel the Call of the Wild at Lincoln Park Zoo
A fun and free activity, the historic Lincoln Park Zoo is a fantastic place to take your kids. The grounds of this zoo span 35 acre's in the heart of the city and provides a home to over 200 animals. Founded in 1868, the Lincoln Park Zoo is one of our nation's oldest zoos. During the holiday season, the zoo becomes a winter wonderland thanks to the annual ZooLights show held on the zoo grounds. With over 2.5 million lights, you and your family can experience a zoo aglow. Walk under the lights while you listen to the holiday music, or enjoy food and drinks while you take pictures with Santa. You can even see ice-sculpting demos!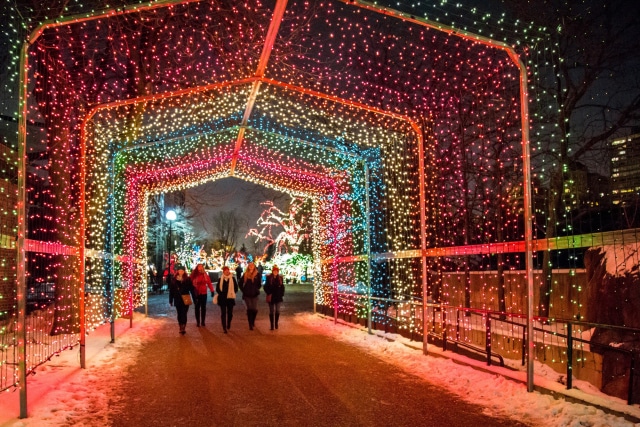 Ice Skate at Millenium Park
A good skill to learn at any age, ice skating at Millenium Park is free. Well, free as long as you have your own skates. If you don't have your own skates, you can rent a pair for 12$. For families with older children, try attending one of the Ice Rink DJ Nights. Ice Rink DJ Nights occur on the 1st and 3rd Thursdays of the month from December to March. The DJ plays from 6-8pm so for two whole hours you can get your groove on-on ice! Nearby are many restaurants ready to sell you hot chocolate, pizza, or other miscellaneous meals. One of Chicago's classic winter activities, this is fun for the whole family!
Escape the Cold in an Escape Room
This indoor activity is a great way to test your families teamwork skills, while avoiding the cold. Escape rooms require cooperation and critical thinking to crack the code and win the game. This activity is perfect for a puzzle loving family who can keep their heads cool under pressure. Not sure if that's you? Try it anyway! Even if you can't escape, they'll eventually let you out.
Drive by the "Home Alone" House
For fans of Home Alone and any of its subsequent spinoffs, this house is a must see. The historic house was built in 1920 and is located at 671 Lincoln Ave, Winnetka, IL 60093. A particularly fun Christmas activity, the "Home Alone" house is situated about 50 minutes north of Chicago. Buckle in and enjoy the ride. We recommend doing some family style carpool karaoke on the way.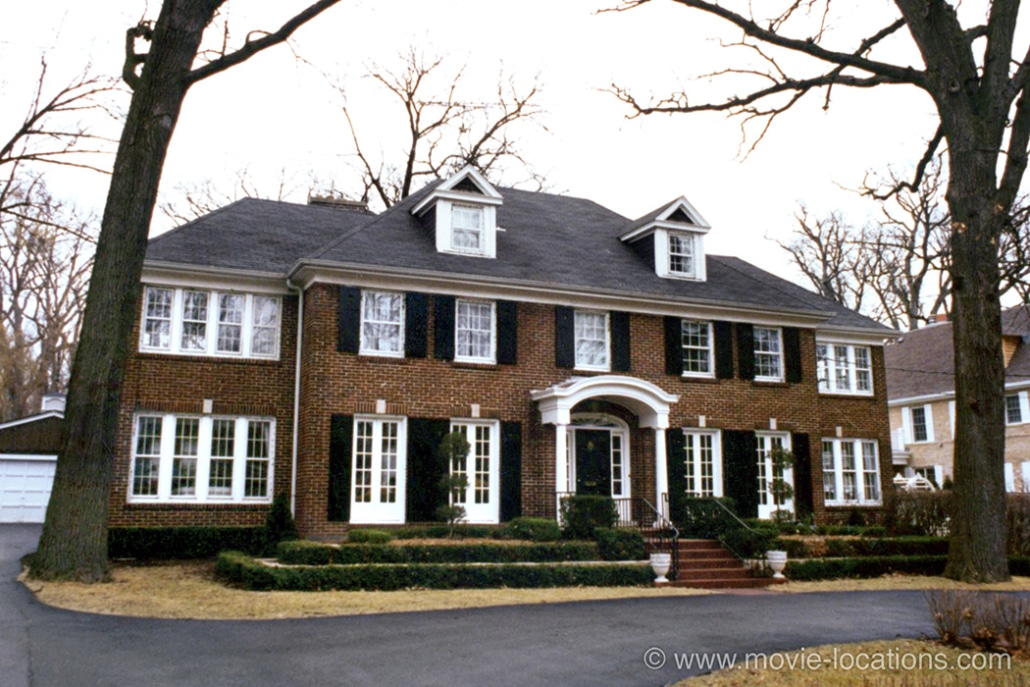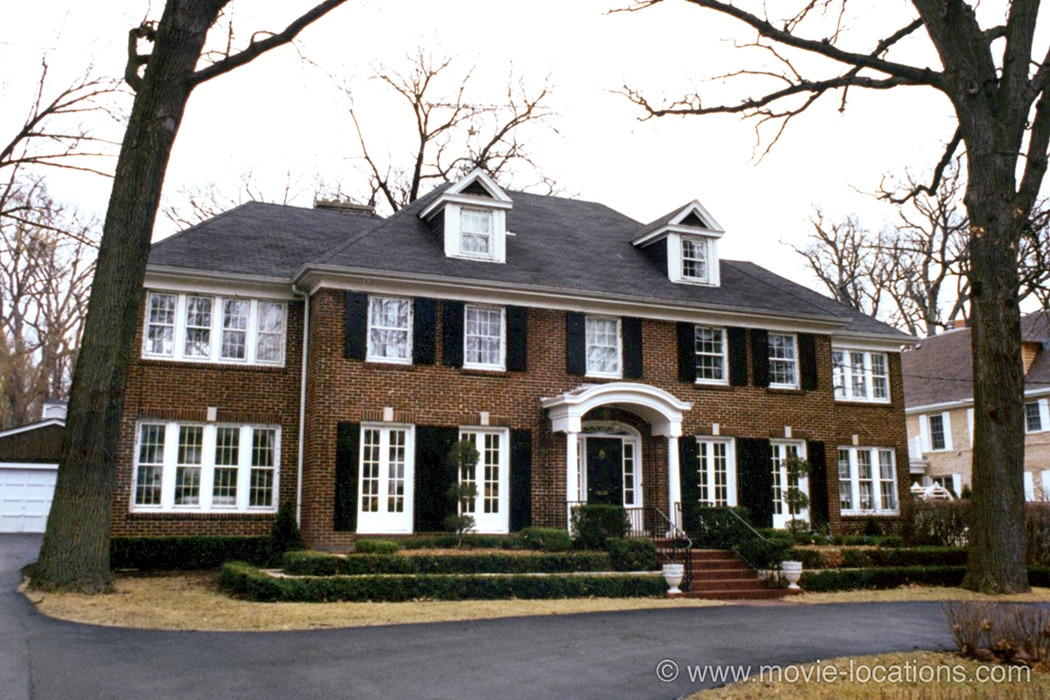 Sing to Animals at the Brookfield Zoo
The largest and longest running light festival in Chicago is held at Brookfield Zoo. Full of lights and full of critters, the suburban zoo is home to 450 species of animals. The indoor animal exhibits remain open and available for the public during the winter with special animal interactions and holiday food stands. A big hit at the Brookfield zoo is an event called Singing to the Animals where you and your family can sing to Reindeer, Big Cats, and Bears. How cool!
Hang Out with the Butterflies
You'll forget all about that windy city cold when you enter into the Peggy Notebaert Nature Museum. Inside this nature museum is a 2,700 square foot butterfly greenhouse which provides a home to over 75 magnificent species of butterflies. This is the perfect winter escape for any family-unless you have a phobia of butterflies. The kids will love the hands-on learning exhibits and really, who doesn't like butterflies?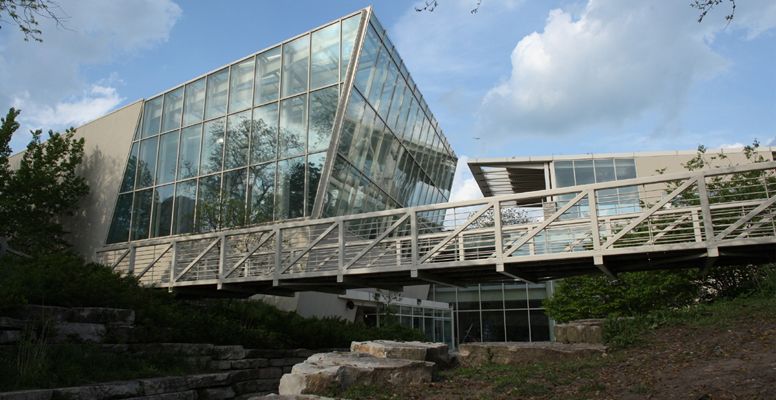 Warm Up with the Family at Garfield Park Conservatory  
While the rest of the city is engulfed in wind and ice, find sanctuary at this conservatory where it's a balmy 80 degrees all year round. This warm wintertime activity is a great opportunity for you and your family to learn more about nature. The Palm House is the largest room in the conservatory, and is home to over 70 palm trees. For those of us who have a passion for indoor gardening, try the Aroid House which is every home gardeners dream room. Come back in the summer for 10 additional acres of greenery.
Go sledding!
As long as you put safety first, you can't go wrong with this classic winter activity. With hills all over town, you can simply pick the location that's most convenient for you. All you need is a sled and a hill and you're on your way to having a day full of fun and laughter.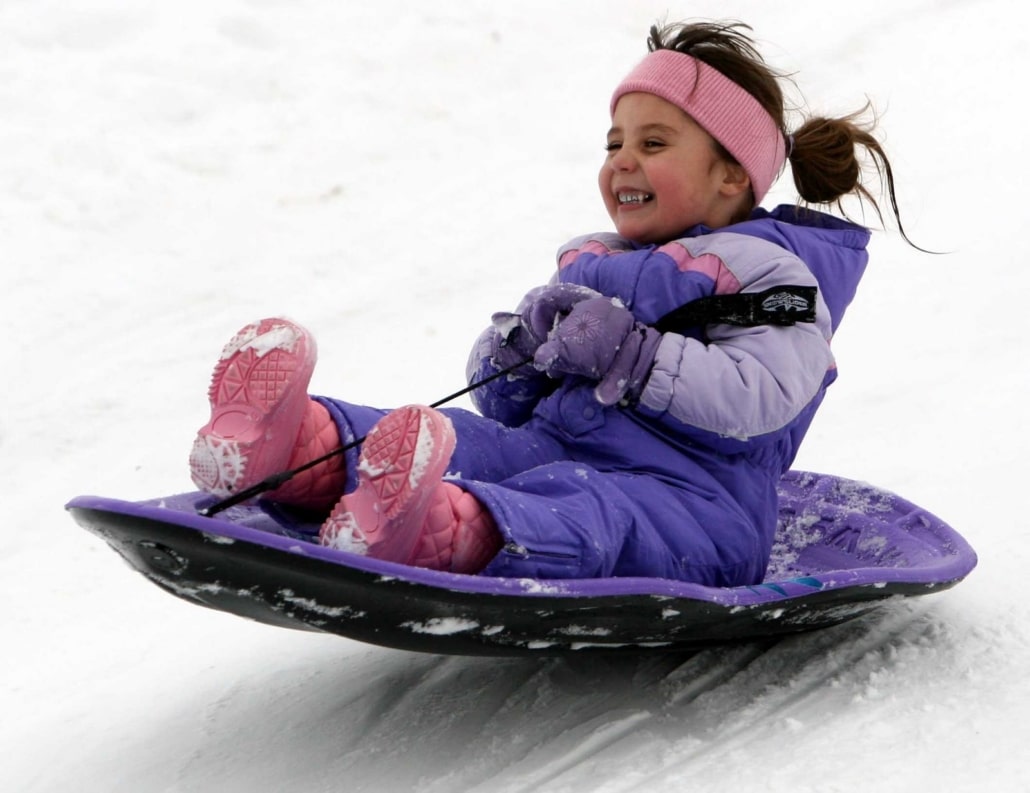 Visit Space in the Adler Planetarium
What usually is a pricey activity for the whole family doesn't have to be when you attend the planetarium on discount days. You and your whole family can feel like space explorers as you traverse the galaxies, learn about exploding stars, diamond planets, black holes, and our very own solar system. Who knew that astrophysics could be so fun?
Indulge Your Imagination at the LEGOLAND Discovery Center Chicago
LEGOLAND is a magical place for parents and adults alike. LEGOLAND Discovery Center Chicago includes LEGO themed rides, play areas, a 4D movie theater, and it's setting the standard for play inclusivity with its sensory-friendly Saturdays. Play Well Days provide the perfect place to take your sensory-sensitive little ones. The morning of the first Saturday of every month (known as Play Well Days) are special times with reduced sound and lighting, reduced capacity, and staff training by Autism Speaks. Quiet spaces are also available for those moments when the world is just a little too overwhelming.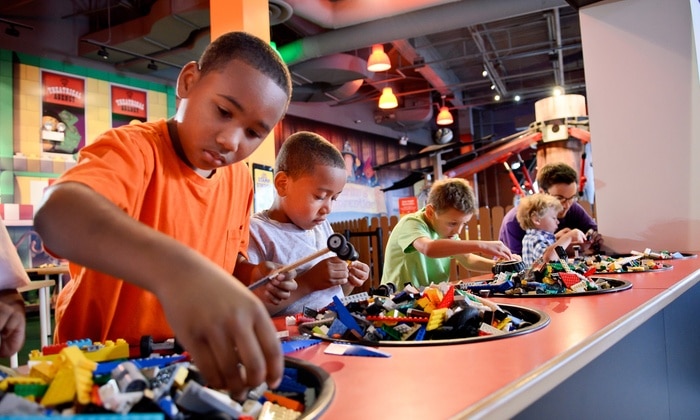 Accept the Pizza Challenge
Deep dish pizza is a Chicago staple, but do you know which pizza joint has the best pizza? It is now your mission to find it! The pizza challenge involves traveling to pizza joints around the city and indulging in some delicious pizza pie with your family until you find the perfect pizza, or explode from eating too much. 
Combat Fear of Heights by Stepping off the Ledge at Skydeck
This family friendly activity begins with a 103 story elevator ride to the top of the Willis tower. Once you've arrived you will learn about Chicago and marvel at the miracle that is human engineering from 1,353 feet above the ground. See the big city at birds eye view and conquer any fear of heights.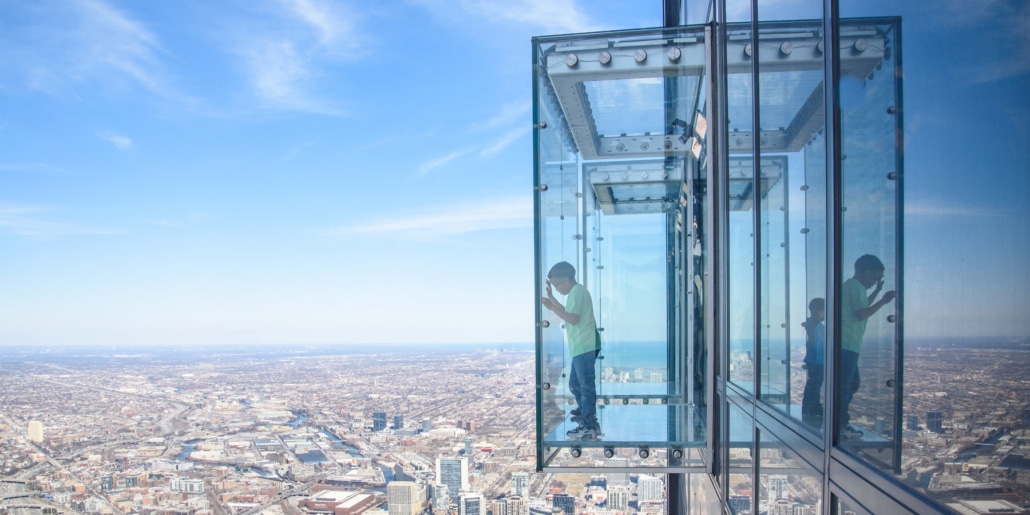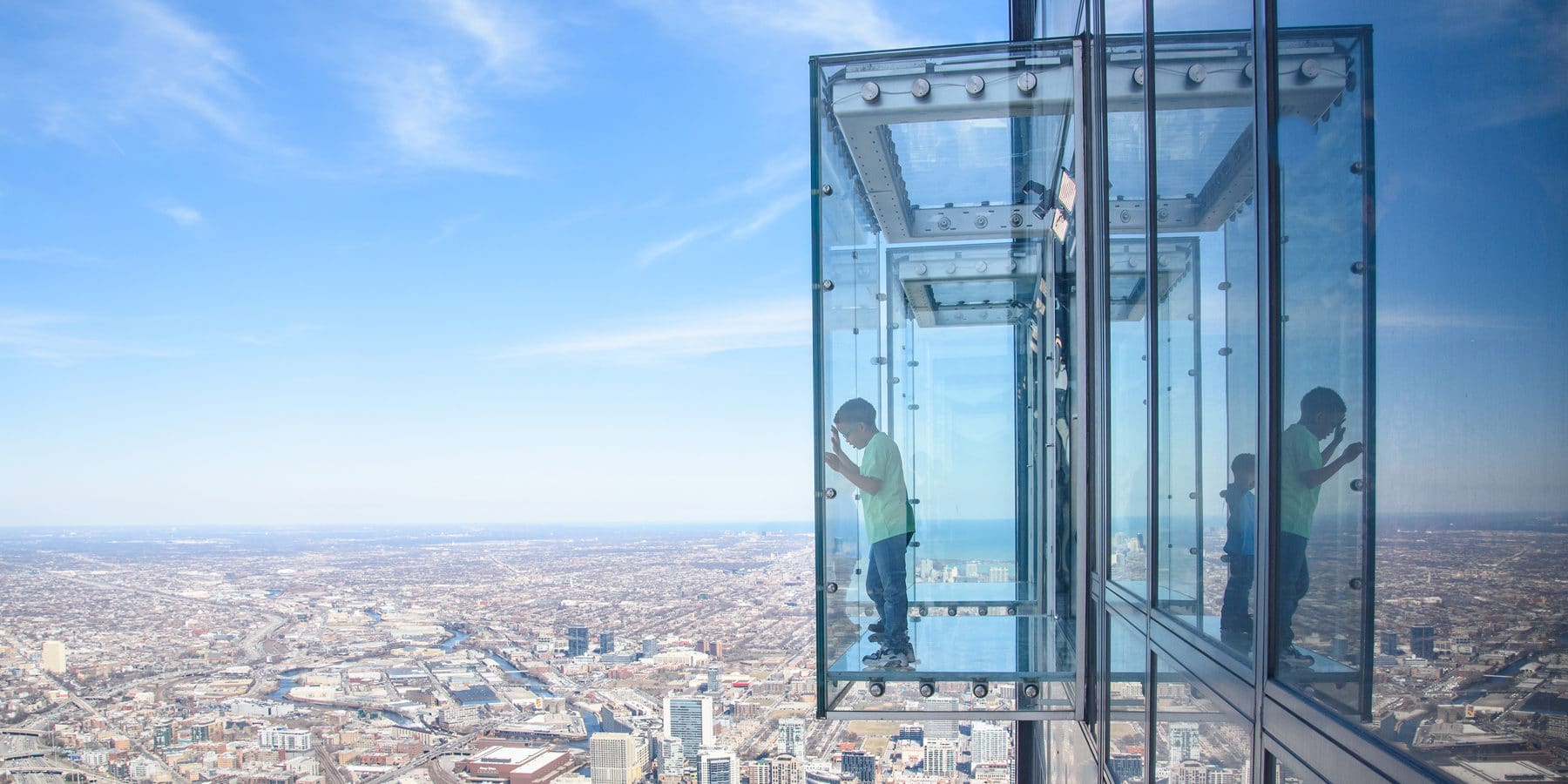 Marvel at the Wonder of the World at any of Chicago's Museums
Chicago is home to many world-renowned museums. For example, The Art Institute of Chicago, the Field Museum, The Museum of Science and Industry, the Museum of Contemporary Art, the Chicago History Museum, The Chicago Children's Museum, the National Museum of Mexican Art, and the DuSable Museum of African American History-to name a few. Whatever your family is interested in, there's something for you in Chicago. You can experience world cultures all within one city, or travel throughout history all in one day. Make sure to check out discount days as many museums offer special days where families can visit for a lower price.