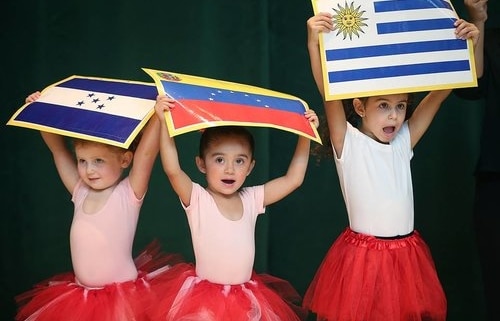 Our vision at Rayito de Sol is to be a leading multicultural educational institution that supports children's education by teaching values that prioritize a positive coexistence between all cultures through the process of Spanish language and Latin American culture immersion and instruction; thereby enriching the life experiences of the children in our community who will then have the tools to be influential citizens and stewards of these values allowing them to excel in our developing global society.

As a Spanish Immersion NAEYC accredited center, incorporating culture in our classroom is a necessity. Throughout our locations in Minnesota and now our new location opening soon in Chicago, we are keeping culture at the forefront. Culture will always be consistent throughout the classroom and the entire center. The lobby area will feature a mural taken right out of the vibrant streets of Colombia, incorporating bright colors as children are exposed throughout the day to the latino culture and language aligned with a comprehensive STEAM curriculum.

"As the world becomes more globally conscious, an important job of educators is to help children and youth acquire knowledge about cultural differences so that they will be able to work together and solve future problems together. Cultural competence is a critical set of skills that teachers, as well as out-of-school staff, need to help all children reach their full potentials.

Dr. Patreese Ingram, Penn State University, explains how culturally competent youth development professionals play a key role in helping youth grow and develop. "The research says that a positive self-esteem and emotional well-being provides a strong foundation for developing one's cognitive abilities. So a healthy sense of self requires that the children know who they are—and like who they are—without feeling superior to other children. Youth development professionals really play a big role in helping youth develop that self-esteem and self identity."

By making learning about culture a regular part of in-school and out-of-school programs, teachers and staff members can increase global awareness while they reduce intolerance. Culture-study can become part of the everyday life in the classroom or out-of-school program. It can be considered part of the curriculum, or it can become part of the basic guidelines of the program, as basic as behavior management and how children practice mutual respect and understanding. The most important piece of starting a culture-study is having instructors who are culturally competent." – PennState Extenstion
Learn more about Rayito de Sol's program and how we incorporate culture into our curriculum by touring our center today!
Tour Rayito

References
United States Census Bureau. Revised 2015. "2014 Highlights." US Census Bureau, Social, Economic, and Housing Statistics Division. https://www.census.gov/hhes/www/poverty/about/overview
Davis, Bonnie M. 2012. How to Teach Students Who Don't Look Like You: Culturally Responsive Teaching Strategies.Corwin Press.