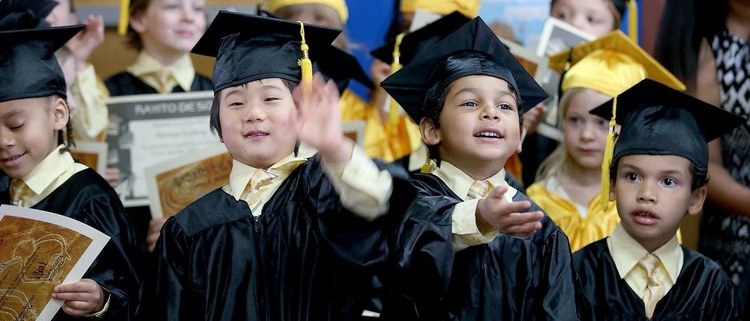 Parents considering daycare options for their children age six weeks to five years have an exciting new alternative as Chicago's first Spanish immersion childcare facility just opened its doors.
Located in the Roscoe Village neighbourhood, Rayito de Sol Early Learning Center offers unique early childhood programming that will allow children to naturally learn the Spanish language while receiving caring attention from licensed and experienced Spanish-speaking childcare workers.
Numerous studies have shown that children who speak more than one language will have greater employment opportunities and earn higher salaries throughout their lifetime. In addition, gaining an appreciation of the Latino culture will help create global citizens who value cultural diversity and inclusion.
"We prepare our children to think globally," she says at our childcare, children experience Latino food, music, holidays, traditional dress and, by the time they are five, they can identify the 21 countries in the world where Spanish is the first language, their capitals as children can locate this countries in the globe.
Rayito de Sol offers both full and part-time childcare, children who attend full-time, and from a young age, will most easily acquire Spanish fluency, children entering the program by age three, on a full-time basis, will become fluent in the language by the time they enter kindergarten.
Being multi-lingual improves reading and writing development, Rayito de Sol program prepares children for academic success once they "graduate," with some children showed reading at second grade level in kindergarten.
Rayito de Sol (Little Ray of Sun) after her two award-winning Spanish daycares of the same name in Minneapolis. Those facilities are distinguished not only by their curriculum, but for their accreditation by the National Association for the Education of Young Children (NAEYC), which has been awarded to only 12% of daycares in the United States and signifies a particularly high-quality program that meets national standards.
The Chicago facility is licenced for 187 spaces, and children are separated into classrooms designated by age. The well-equipped classrooms are safe and inviting, each with natural light and emergency exits, and accommodate both individual and group learning in a happy, caring environment. Staff ratios range from one childcare professional for every four infants, to one per 10 pre-schoolers age three to five.
With Spanish the second-most spoken language in the United States, there is high demand for Spanish immersion programming in the school system. The opening of Rayito de Sol now provides that opportunity at an even earlier age, when the acquisition of a second language is easiest.
For more information come to our open houses on March 9, March 16, march 23 and March 30 From 10:00 AM to 1:00 PM, call us at (312)819-5077 or visit www.raytioschools.com