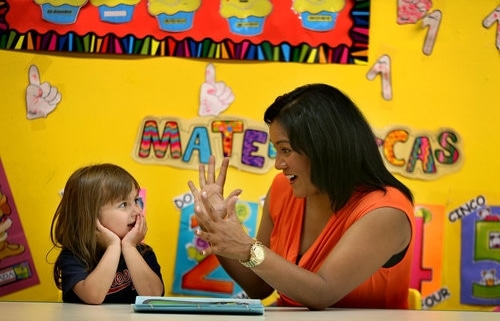 Luisa Fuentes emigrated from Lima Peru to Minnesota over 17 years ago. Luisa knew that to be successful it was imperative for her to begin the immersion process in her new community by first learning the language and then concurrently learning the culture and all aspects of what it means to be a "Minnesotan". With degrees in journalism and early childhood education from Garcilaso de la Vega University, coupled with 17 years of teaching experience with children under the age of six, she knew the importance of education – regardless of your culture or where you come from.
In 2003, Luisa founded Rayito de Sol Spanish Immersion Early Learning Centers. Her objective was not only to offer families affordable child care, but to also offer a learning environment that shares the wonders of the Spanish language and Latin America cultures; thereby providing children with a multicultural education.
With her zest for her Peruvian heritage, her love for her "Rayito Children and Families" and her keen business sense, she was able to grow her program and its ever-expanding offerings. Rayito de Sol provides its participants the opportunity to learn Spanish through the immersion process, as well as showing the young learners how other cultures exist and how embracing diversity makes our communities stronger, more intriguing, and allows for a greater sense of community.
Luisa Fuentes' vision for the future remains focused on growth and development of the Rayito de Sol program and brand. Her goal is to expand across the United States and offer all families the opportunity to provide their children with a unique and holistic learning environment that integrates childcare and education with culture and language. Rayito de Sol is excited to announce…
Rayito de Sol Spanish Immersion Early Learning Center aims to prepare students to excel as young leaders of tomorrow by combining an exclusive curriculum elevated with first-class child care services and Spanish Language immersion.
☼ Rayito de Sol offers a unique alternative for parents and participants to integrate their childcare with bilingual language immersion in a licensed and accredited program.
☼ Rayito de Sol offers award-winning child care services for children ages 6 weeks to 5 years old, the critical stages of life in which language acquisition most readily develops.
☼ Rayito de Sol provides its participants the opportunity to acquire the Spanish language through an immersion process.
☼ Our curriculum is grounded in both language and culture to enhance social awareness and cultural diversity in all communities we are able to impact.
☼ Rayito de Sol is setting the bar higher in Chicago by introducing our bilingual learning centers for young children to meet the educational needs of current and future generations.
Rayito de Sol will be the first of its kind in the City of Chicago, offering programs and services with a structured business model in premier childcare facilities that integrate diversity, inclusion, and language immersion.